Given the timing of the Computex exhibition, it is hardly possible to choose a more appropriate time for the announcement of processor cooling systems. This time, ASUS pleased the AIO classrooms developed jointly with Asetek.
For the top-end gaming PCs, the company offers ASUS ROG RYUJIN liquid with a whole set of non-trivial options.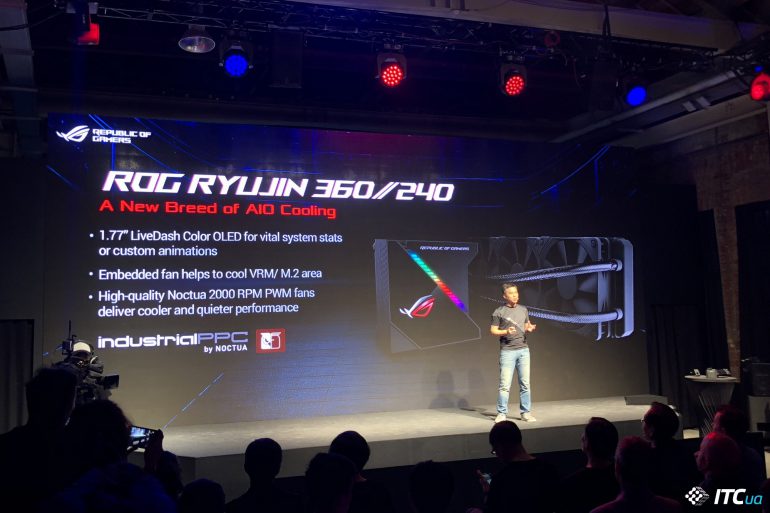 The colored watercolor on the cap of the water block is 1.77 In-inch OLED screen LiveDash, which can display various system information. The most popular, of course, in this case will be the current temperature of the processor.
A miniature fan is located under the waterproof protective cover, which improves the cooling of VRM elements and M.2 drives located in the central part of the board.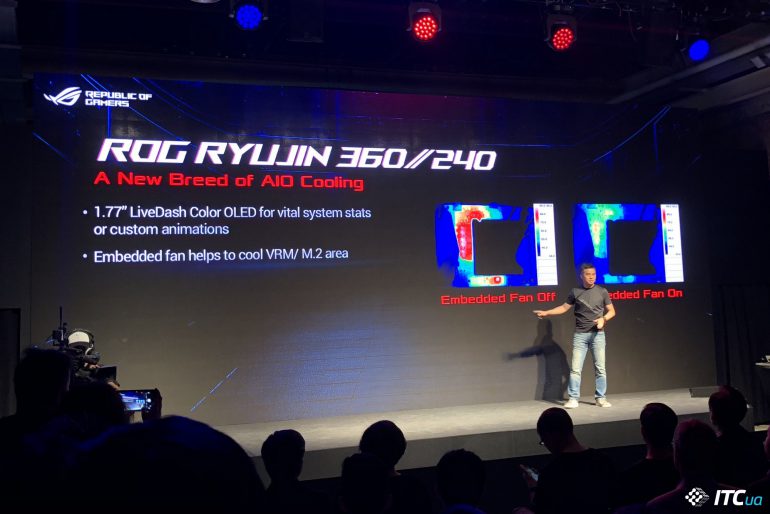 When using classical SVO because of the lack of airflow around the processor connector, the VRM's power elements get hotter. An additional fan should reduce the heat load.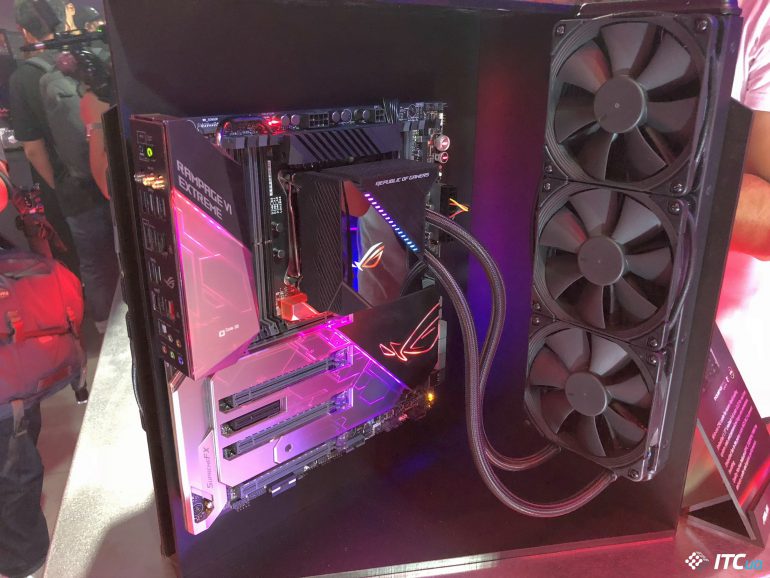 Radiator units of 240 mm or 360 mm length are used for SRO. Depending on the size of the module, two or three 120 mm fans are installed to cool it. The manufacturer emphasizes that for ASUS ROG RYUJIN Reliable IndustrialPPC fans from Noctua are used with a rotation speed of up to 2000 rpm and a minimum noise level. In this case, three such fans are capable of providing an airflow of 122 CFM. SVO has addressable RGB-illumination.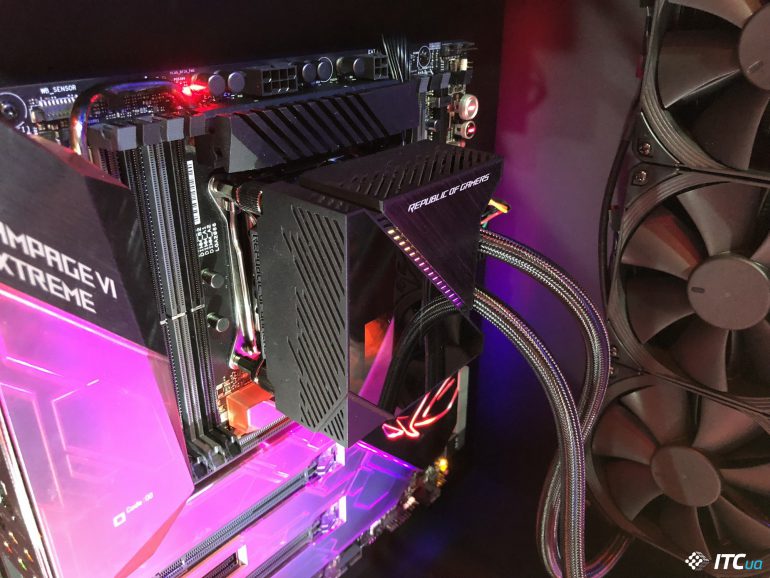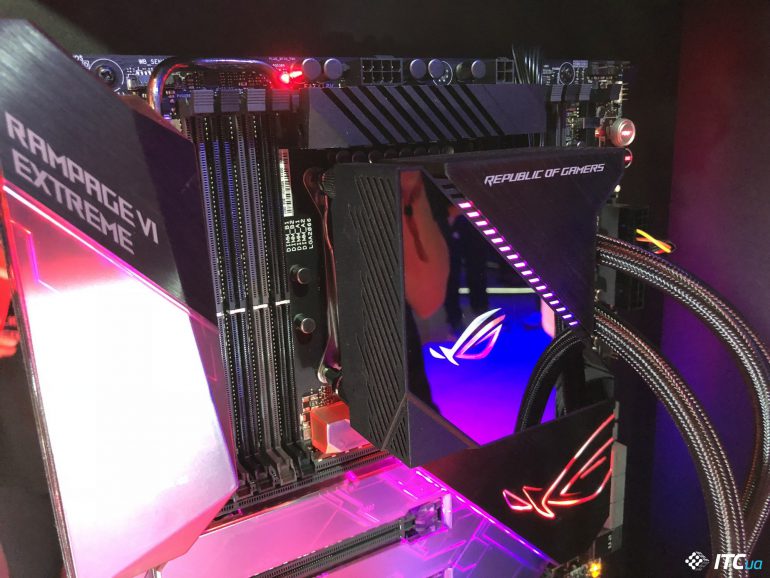 Well, we have the original hybrid solution for charged systems. SVO is not a device that can be evaluated in appearance and functionality, so we hope to get ASUS ROG RYUJIN for practical tests soon. Then it will be possible to talk about the effectiveness of the new system.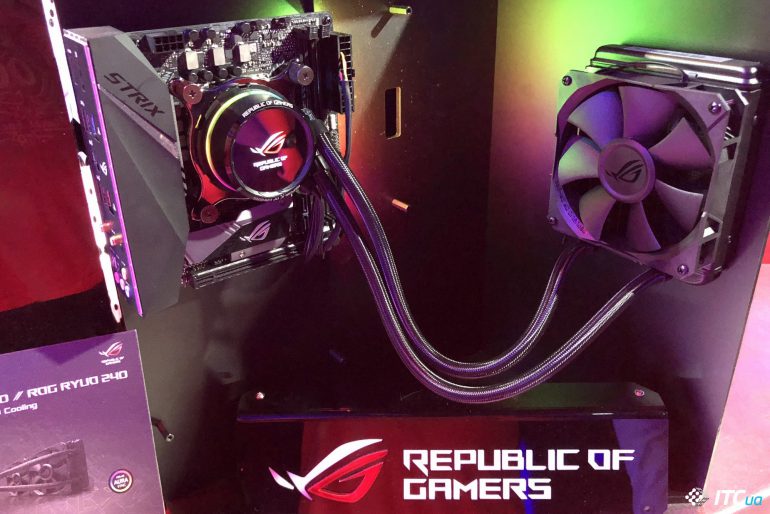 For the compact and medium-format PCs, the manufacturer introduced the ASUS ROG RYUO 120/240. Despite the markedly reduced size of the water block, the latter is also equipped with a color OLED screen LiveDash with similar functionality as the older model.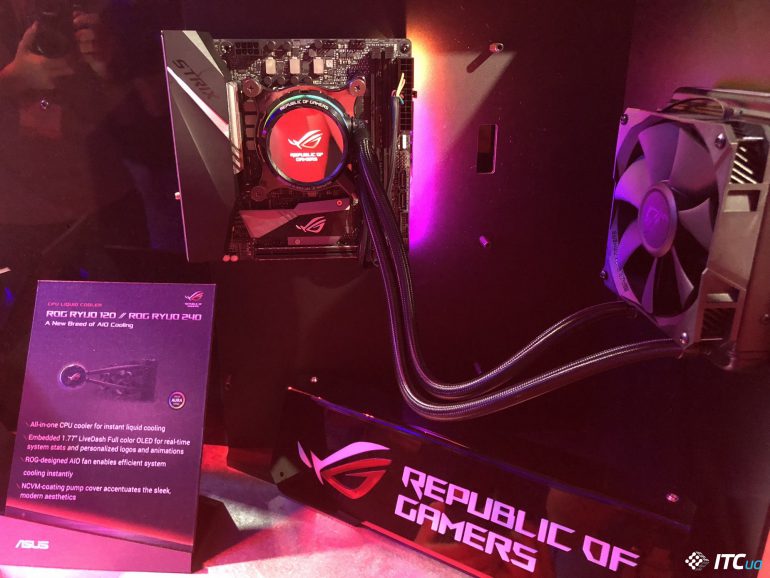 The radiator unit has a length of 120 mm or 240 mm and, depending on this, is blown by one or a pair of 120-millimeter fans of its own design Wing-Blade. Two such fans can provide an airflow of 81 CFM at a speed of 2500 rpm
The heat sink is decorated with RGB-backlight (9 addressable LEDs) supporting ASUS AURA Sync synchronization. An additional reinforced braid for tubes connecting the water block and radiator should improve their longevity.
On the whole, the appearance of SVO in the ROG series products is quite natural. With the increase in thermal packets of top processors and the widespread use of enclosures with transparent walls, coolers of this type have become more in demand. Fans of the ASUS gaming series who are eyeing liquid systems will now find it easier to decide, except that those who wish will have to wait a little – the sale is scheduled for Q3 2018.