As you know, on April 19, the start of sales of new desktop Ryzen processors of the second generation is scheduled. Earlier we already had an opportunity to get acquainted with all the characteristics, suggested recommended prices and even the results of the first full-scale tests of AMD Ryzen 2000 series processors. But a new piece of data indicates that the prices for the new AMD Ryzen desktop CPUs are likely to be even lower.
Amazon online store is the source of fresh price data, where new CPUs were seen.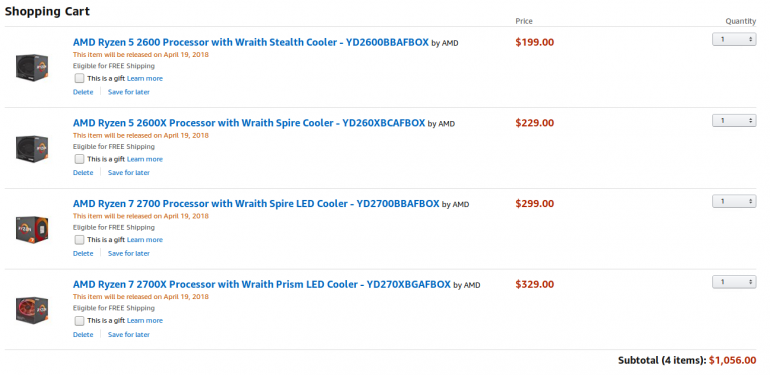 So, according to the screenshots, the eight-core Ryzen 7 2700X will cost $ 330, not $ 370. At the same time, the six-core Ryzen 5 2600X will cost $ 230, not $ 250. The cost of the Ryzen 7 2700 and Ryzen 5 2600 models without the XFR (Extended Frequency Range) technology is indicated to be the same $ 299 and $ 199 respectively.
Yes, in the case of older models, the difference is small, but nevertheless, it is an economy for the buyer , which can not but rejoice. Presumably, to review the price of AMD prompted the recent announcement of the new chips Lake Coffee-S, as well as more affordable boards with lower-order Intel 300 series chips. In other words, competition is bearing fruit.
Source: wccftech