Intel company shared a brief description of its upcoming chipset premium class Z390 Express. This set of system logic surpasses the Z370 Express and has a wide range of functions.
The Intel Z390 Express chipset supports the existing Intel Core 8th generation Coffee Lake, and is also ready to use upcoming next-generation chips. Like the other Z300 series system logic sets, the Z390 Express version supports processors with LGA1151 performance and interacts with them via the DMI 3.0 bus. Also, the chipset supports 24 lines of PCI-Express 3.0, up to six SATA3 ports (data transfer speed up to 6 Gb / s) with support for AHCI and RAID, up to three M.2 / U.2 connectors (transfer rate up to 32 Gbps) . All these features are similar to the Z370 Express chipset.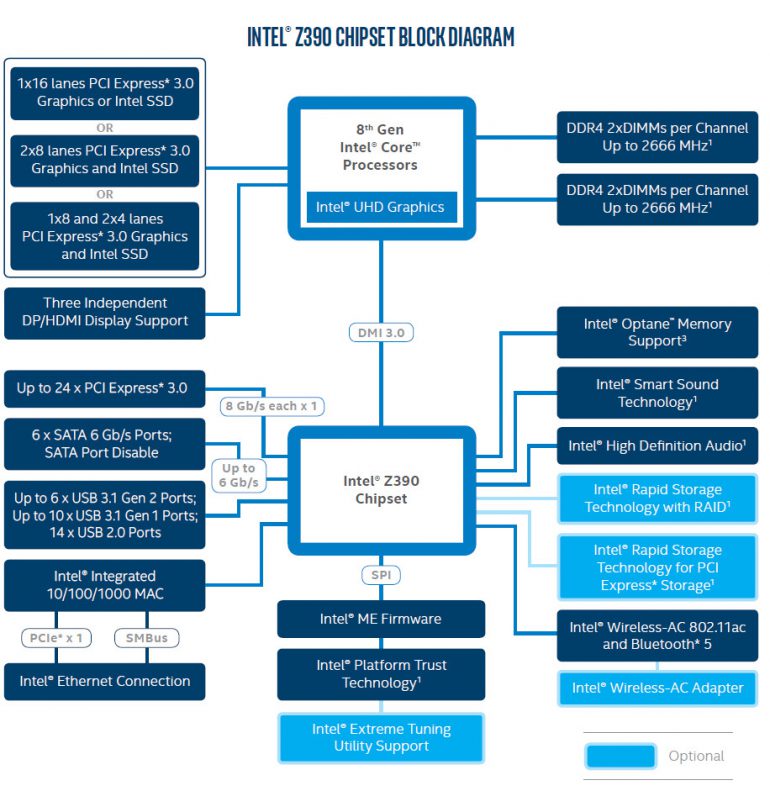 The differences are in the list of available USB interfaces. A set of system logic Z390 Express supports 6 USB 3.1 gen 2 ports (data transfer speed up to 10 Gbps), 10 USB 3.1 gen 1 ports (data transfer rate up to 5 Gbps) and 14 USB 2.0 ports. Thus, the total number of USB ports can reach 30. At the same time, the Intel SmartSound technology is available in the Z390 Express, which is described in the documentation as a solution for reducing the load on the digital signal processor when processing audio and voice. At the physical level, we are talking about the proprietary Azalia HD bus, combined with an audio codec. Probably, the processing is carried out by the chipset, and now it will be able to perform such tasks as converting speech to text.
Finally, in the Z390 Express chipset, Intel updated the network capabilities of the platform. Gigabit wired network interface is supported, and motherboard manufacturers are recommended to integrate Intel Wireless-AC 9560 cards with Wi-Fi 802.11ac and Bluetooth 5 support into their devices.
Source: techpowerup [19659007]