It's no secret that Intel has been experiencing difficulties in translating its products into more advanced technology standards in recent years. Actually, the table below illustrates the stagnation of Intel's core business as well as possible. And while there are no signs of improvement, the company again postpones the release of 10-nm chips.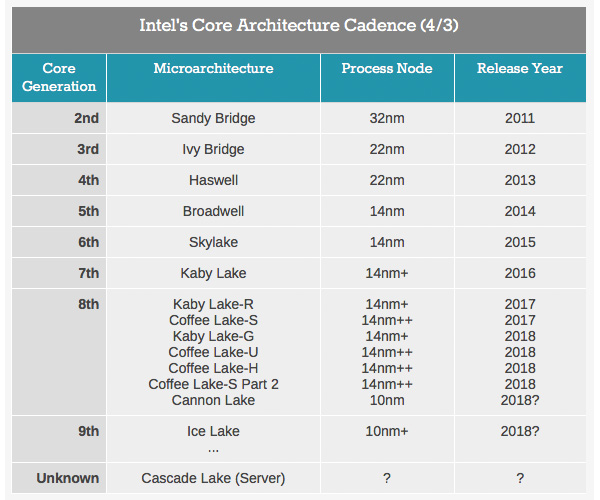 Summing up last quarter, which, incidentally, brought Intel record revenue of $ 16.1 billion (an increase of 9%) and a profit of $ 4.5 billion (an increase of 50%), Intel CEO Brian Krzhanic reported another delay. More precisely, 10-nm processors, which were supposed to be released in 2015, but then were transferred several times, are now expected not earlier than next year. And the manufacturer does not name exact terms.
Brian Krzhanich said this:
"We continue to advance in the development of the 10-nanometer process technology. We have already started deliveries in limited quantities and the percentage of yield of good products is growing, but the rates are slightly lower than we expected. For this reason, we are forced to move mass production from the second half of 2018 to 2019, "said Brian Krzanich, Intel CEO.
Without going into details, Krzanich notes that engineers have already come up with appropriate improvements that should help to bring the percentage of output of the product to the required level, but additional time is required for their implementation and evaluation of results.
Meanwhile, Intel will continue to use the 14-nm process technology for the release of new chips. Until the end of this year, the company plans to release two families of 14-nm processors: Whiskey Lake and Cascade Lake.
It remains to add that the 10-nm process technology, which Intel is now struggling to master, is the latter using traditional lithography. After that, Intel is going to switch to lithography in the hard ultraviolet range (EUV), which requires making significant changes in the technology of production of microcircuits. Meanwhile, AMD is already developing a 7-nm GPU and plans to begin shipping samples of the 7-nm CPU EPYC 2 this year, and the next to go to the mass production of both products.
Source: tomshardware