Earlier this month, Intel introduced the "anniversary" processor Core i7-8086K, which is primarily distinguished by its high overclocking potential. Now Silicon Lottery, engaged in "scalping" processors, offered all comers a choice of copies of Intel Core i7-8086K.
The staff thermal cover under the lid was replaced by Silicon Lottery specialists with a liquid-metal thermoset Thermal Grizzly Conductonaut, which, according to the nature of the load, a decrease in temperature by an average of 15-25 ° C compared to the reference thermal interface.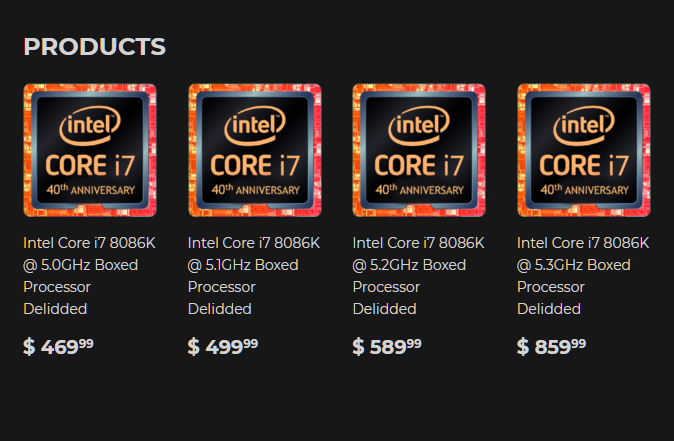 In total, the Silicon Lottery offers four variants of pre-scalped Core i7-8086K, differing in the maximum frequency potential scrap. Of course, this parameter determines the price of the "stone". The cost starts at $ 470 for the most affordable option, which supports the stable operation of all cores at a frequency of up to 5 GHz at 1.4 V, and reaches $ 860 for the top version that can work stably at 5.3 GHz with a voltage of 1.435 V.
Recall that the recommended price for a regular Intel Core i7-8086K is $ 430. That is, for the most select Core i7-8086K ask more than twice as expensive. Whether it's worth overpaying, let everyone decide on their own, but it is reported that only 5.3% of the tested Silicon Lottery processors were subjected to the 5.3 GHz limit.
Recall, Core i7-8086K is a six-core LGA1151 v2 processor compatible with 300 chipsets Series. It is based on the same 14-nanometer Coffee Lake chip as the i7-8700K, but is distinguished by a higher frequency with the formula 4.00 / 5.00 GHz. The chip hardware includes 256 KB of dedicated L2 cache for each core and 12 MB of shared L3 cache.
Source: wccftech and Silicon Lottery