In the TechPowerUp web resource database, which owns the exclusive rights to distribute the popular GPU-Z utility, a page appeared detailing the upcoming gaming graphics card NVIDIA GeForce GTX 1180 We just say that this is only preliminary data on the successor of the current model GTX 1080, although TechPowerUp definitely refers to those resources that are trustworthy.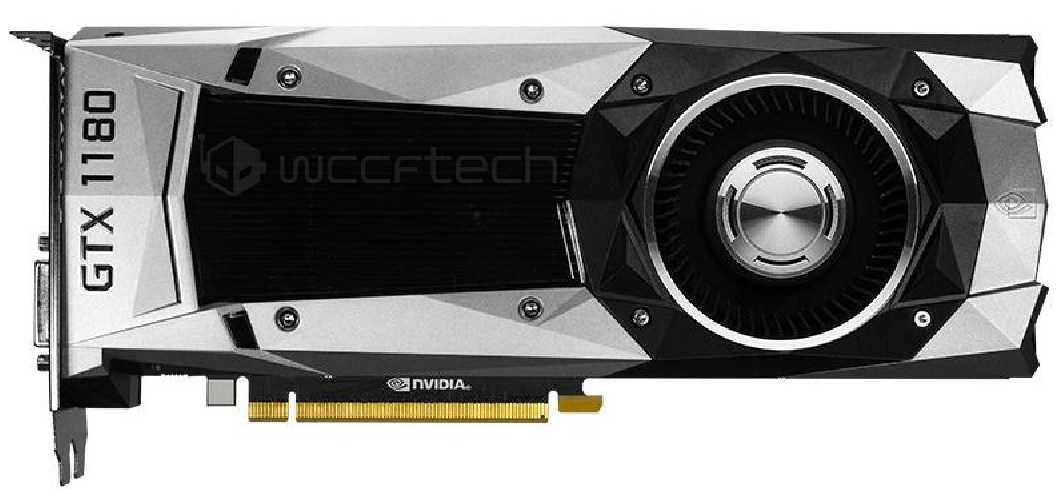 So, the GeForce GTX 1180 is based on the GV104 graphics processor on the Volta architecture, designed for release at a rate of 12 nm. Its configuration will include 3584 CUDA cores, 224 texture units (TMU) and 64 rendering units (ROP). Recall that the 16-nm GPU GTX 1080 current generation Pascal in the presence of 2560 cores CUDA, 160 blocks of TMU and 64 blocks of ROP. On the other hand, the professional NVIDIA Titan V, based on the GPU GV100 (Volta), has as many as 5,376 CUDA cores. True, there is a price of $ 3000. It is expected that the GeForce GTX 1180 will cost $ 599 in the regular version and $ 699 in the Founder's version.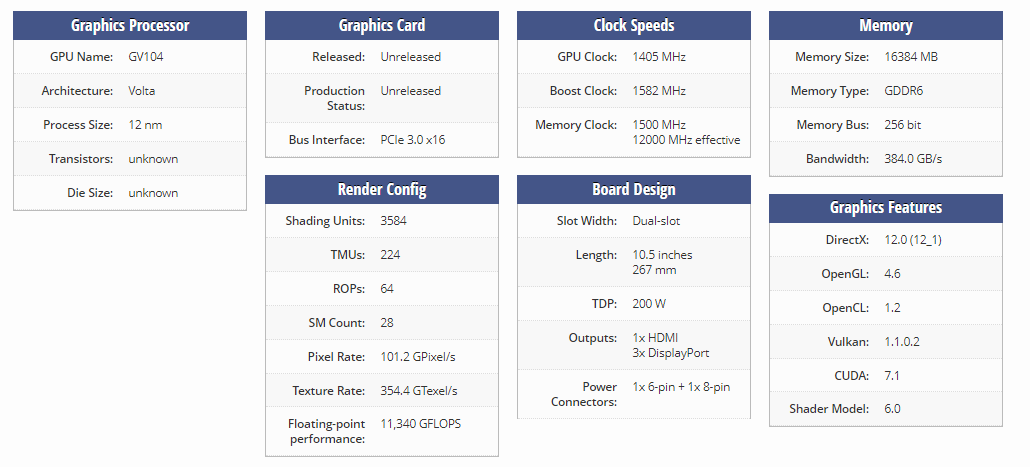 The source leads and frequency characteristics. The base frequency of the GeForce GTX 1180 is 1405 MHz, the increased frequency is 1582 MHz. Memory type GDDR6, which is soldered on a 16 GB card, operates at an effective frequency of 12 GHz, which, with a bus width of 256 bits, gives a throughput of 384 GB / s.
The length of the GeForce GTX 1180 is 267 mm, and in the case PC it (the reference version) will occupy two adjacent expansion slots. The DisplayPort (x3) and HDMI ports are displayed on the mounting plate. The card will require the connection of two connectors (6 + 8) additional power. The TDP indicator will not exceed 200 W.
In general, the characteristics look quite plausible. But once again we emphasize that these are only preliminary data and the final specifications may differ.
The announcement of a new generation of NVIDIA graphics adapters is expected in early summer. It is not excluded that the place of the announcement will be the exhibition Computex 2018, which starts on June 5. But it still needs to be confirmed.
Source: TechPowerUp